Here you find more information about the Aqua Kristal products. Outside The Netherlands, in which we are located, you can order the product through your local dealer, that is why this page does not contain a webshop. Contact us to find your local dealer.
Aqua Kristal All-in-one product
All-in-one product for water maintenance of your spa, hot tub or swim spa.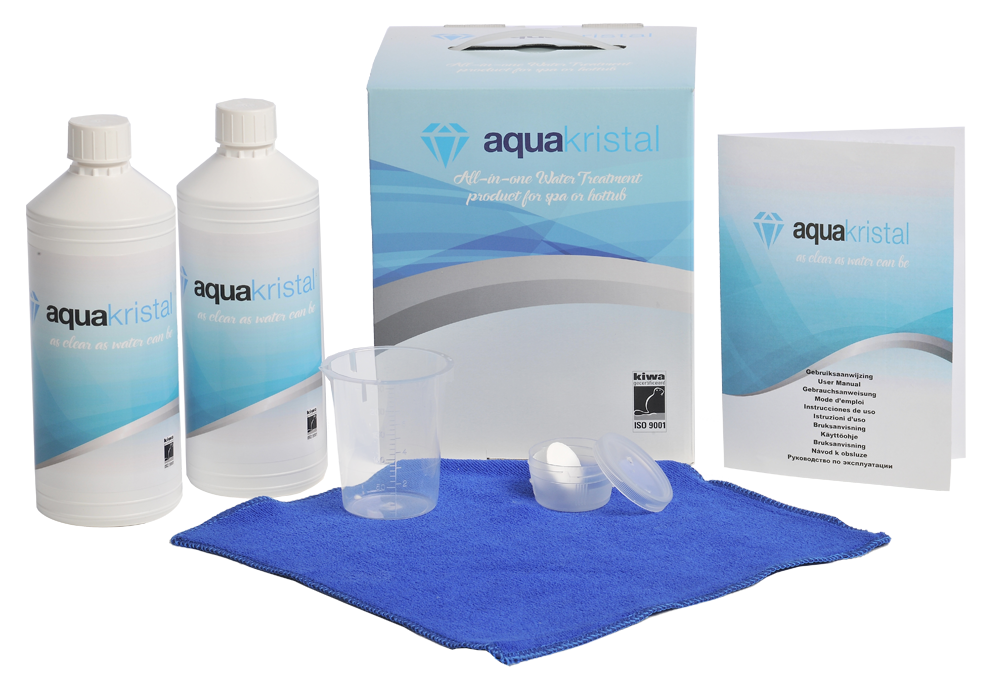 Functionality & benefits  
Aqua Kristal is an environmentally friendly water care system, that can be used inyour spa or hot tub. Aqua Kristal will help you to keep the water in your spa clean in a safe, simple and effective way. With only one weekly treatment Aqua Kristal willhelp you to prevent calcium deposits in your system. Moreover, Aqua Kristal willloosen and remove the existing calcium deposits. These calcium deposits are themedium where bacteria and other micro-organisms grow. The ozone- or UV-systemalready in your spa, will do the rest. It will destroy the bacteria and disinfect thewater. With extraordinary results: the water in your spa is not only clean, but alsolooks crystal clear and feels nice and soft.
Contents:
2 bottles of Aqua Kristal, 1L each
1 dispenser for chlorine tablet
Chlorine tablets 90/20 (18 parts)
1 measuring cup 200 ml
1 microfibre cleaning cloth
User guide
Manual:
Click on the link below, the manual opens in a new tab.
---
Aqua Kristal Filter Cleaner
For crystal clear Jacuzzi water, clean your pool's filter once a week with Aqua Kristal Filter Cleaner.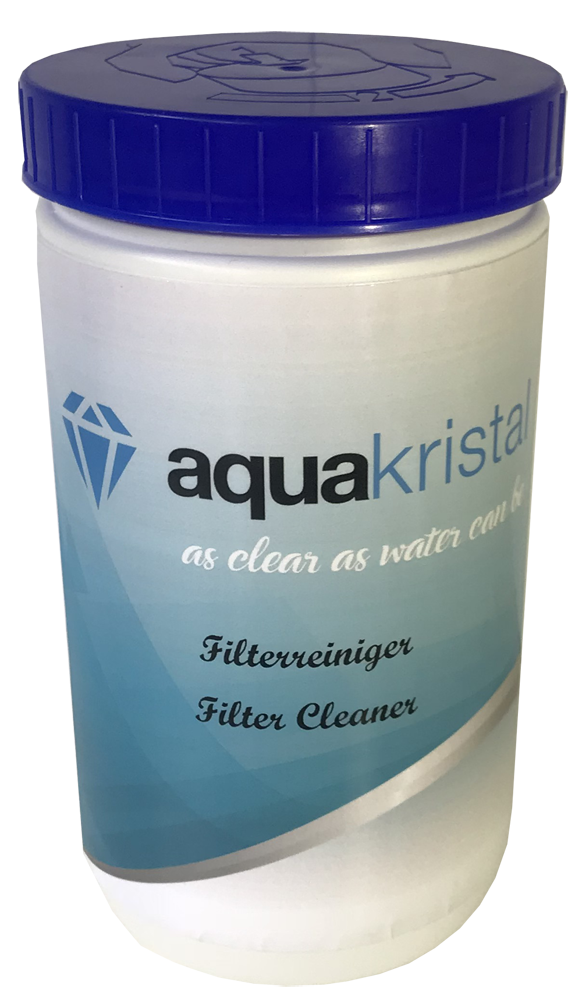 Usage instructions:
Take the filter out of your Jacuzzi's filter housing.
Put two scoops of filter cleaner onto the filter.
Place the filter into a bucket or a filter cleaner tube.
Fill the bucket with 10 liters of hot water.
Leave the filter in there for 1 to 1.5 hour(s). (Turn the filter around every once in a while).
Rinse the filter in a water jet and reinstall it in the Jacuzzi.
---
Aqua Kristal Swimspa
For maintenance of your swim spa.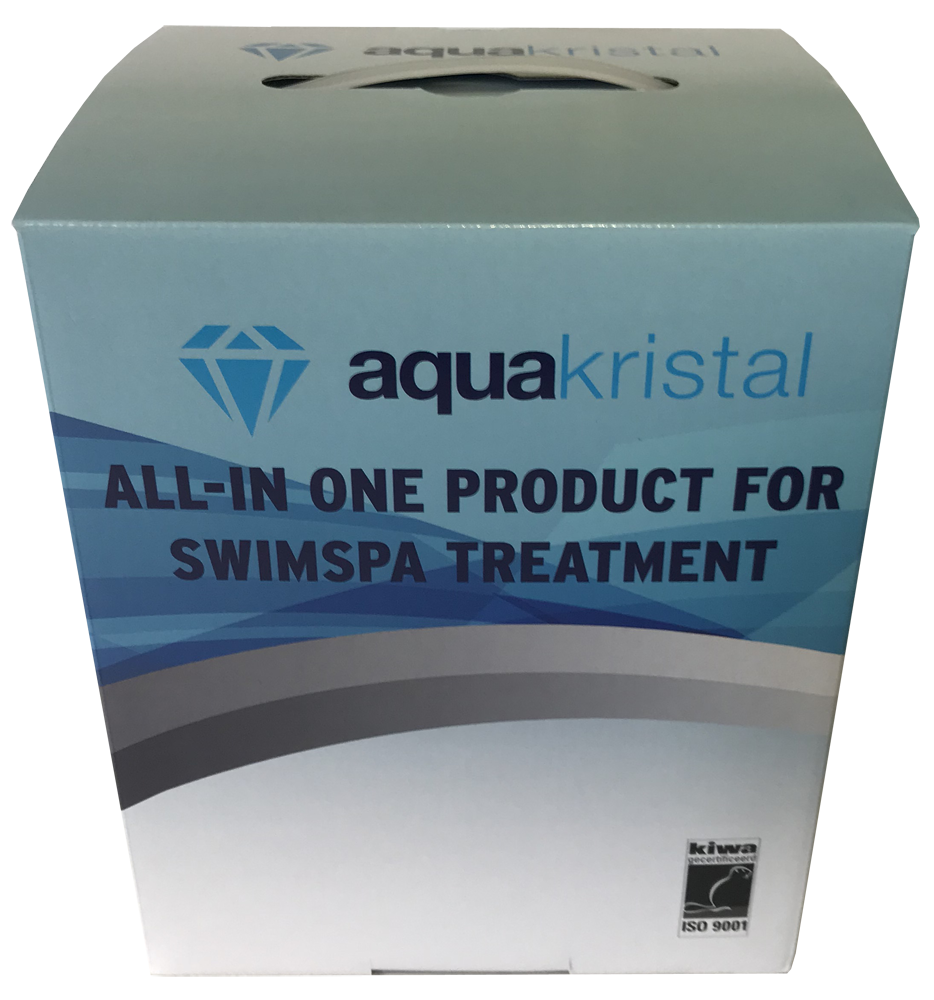 Contents: 1000 gram Aqua Kristal Swimspa, dispenser, microfibre cleaning cloth, scoop and userguide.
Usage instructions:
Dissolve Aqua Kristal Swimspa (in the amount specified in the table below) in warm water and add the solution to your pool's water.
Fully open de pumps for 2 minutes.
Out one chlorine tablet 90/20 into the dispenser. Place the dispenser on the filter element. Please ensure the dispenser to generally be below the water level and contain one chlorine tablet 90/20.
Repeat the above procedure on weekly base. 
| | |
| --- | --- |
| Content pool | Apply Aqua Kristal Swimspa weekly (gr) |
| < 6.000 ltr | 30 gr |
| 6.000 – 8000 ltr | 40 gr |
| 8.000 – 10.000 ltr | 50 gr |
| 10.000 – 12.000 ltr | 60 gr |
| 12.000 – 14.000 ltr | 70 gr |
| 14.000 – 16.000 lrt | 80 gr |
---
Aqua Kristal Metal Clear
Prevents the accumulation of deposits on the metal components of the spa's nozzles.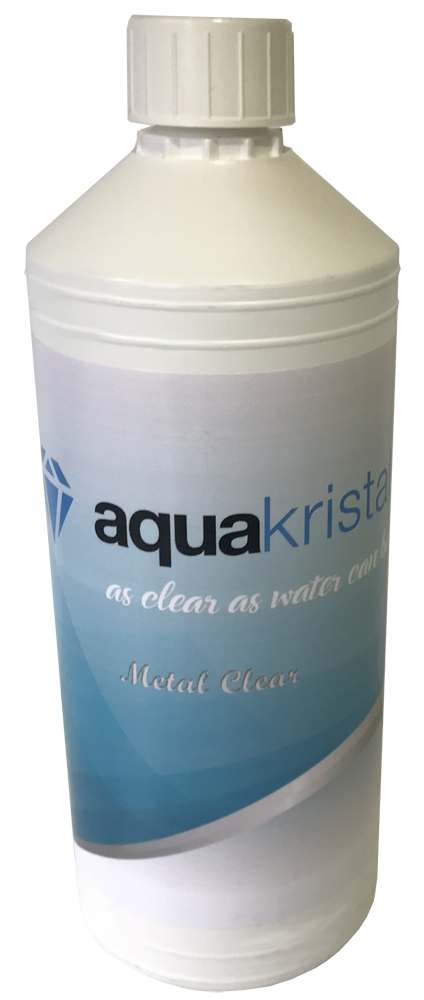 Neutralizes iron, copper, and other water-bound minerals and keeps them from accumulating on the spa's surfaces and causing damage there.  Use whenever you fill your spa to quickly neutralize metals and prevent unsightly staining.
Features
Prevents iron, copper, and other minerals from accumulating in the spa.
Use whenever you exchange the spa's water to quickly neutralize metals and prevent deposits.
Only use when the entire spa water is being exchanges - the product is of high concentration.
Instructions
Interval: whenever the spa is being (re-)filled.
Evenly spread 250 ml of Metal Clear in the spa.
Run the filter system for 30 minutes.
Tip!
Check the filter the next day and clean with Aqua Kristal Filter Cleaner, if necessary.
Advantages
Interacts with metallic contamination before it can cause invisible deposits in your spa.
Use with:
Chlorine-based disinfectants 
Bromine-based disinfectants
Mineral- based disinfectants
Contains 1000 ml
---
Aqua Kristal Spa Cleaner
Spa Cleaner has been specially designed for cleaning your pipes and your spa pool.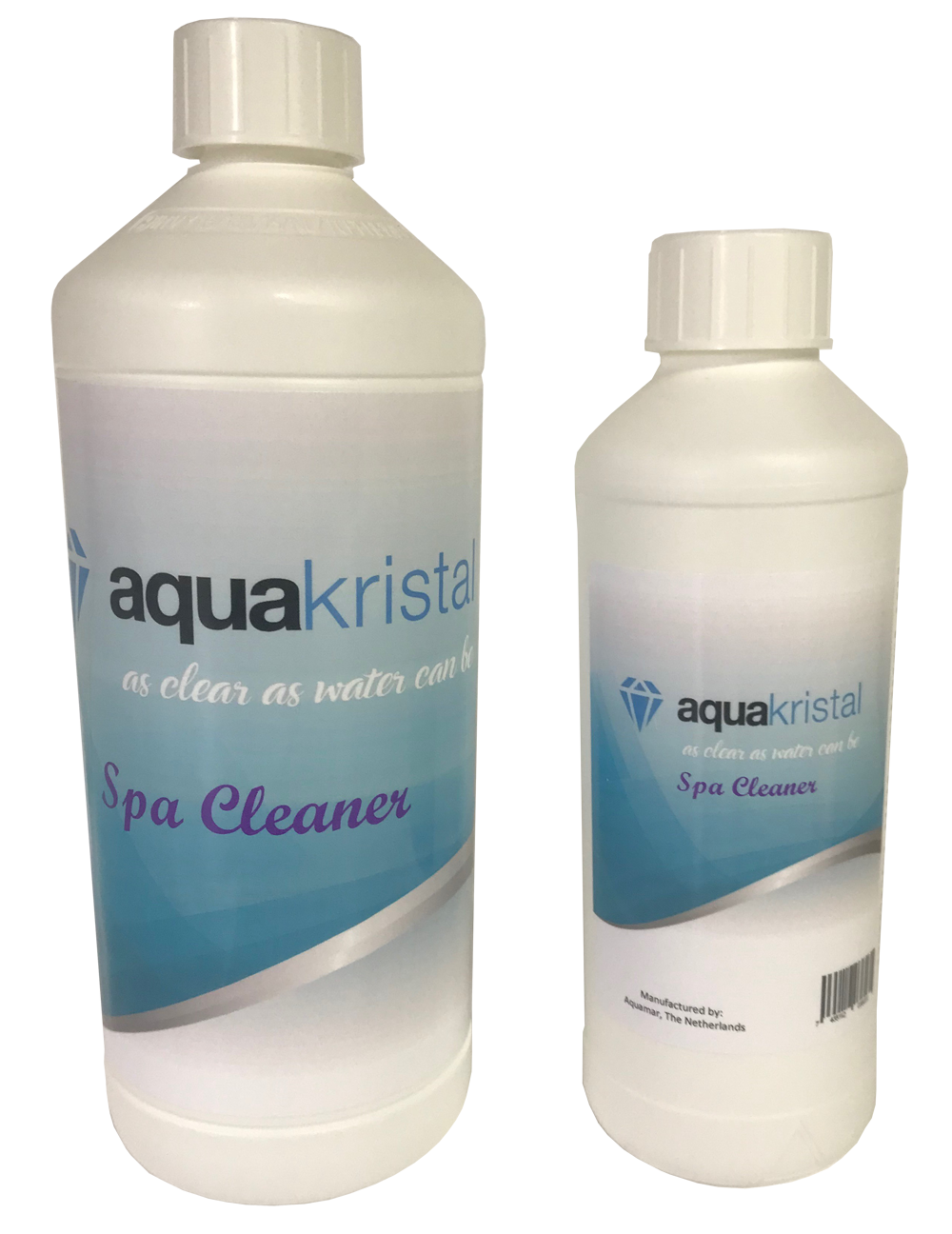 Spa Cleaner dissolves calcium and remaining dirt in your lines. We advise to use Spa Cleaner every time you change the water, we recommend to do this every three months. Spa Cleaner is environmentally friendly and bio-degradable.
Spa Cleaner is available in 1 liter and 0,5 liter bottles.
Instructions:
Add 250 ml of Spa Cleaner to your spa , 24 hours before changing the water.
Make sure all jets and valves are open, and switch on the pumps at full power for 15 minutes. Repeat this 3 times, with enough time in between.
Remove the filter before you drain your spa water.
Clean the filter with Aqua Kristal Filtercleaner.
Rinse out the spa with clean water.
Fill your spa, and place the clean filter back.
Resume your normal water treatment schedule with Aqua Kristal All in one Water treatment.